I'm glad that I drank the remainder of my bottle of Willamette Valley Pinot noir, along with some cheese, foie gras, and dark chocolate. I know you likely are not interested, but these fucking computers can be frustrating. I'd mostly finished this blog post and then I lost it all. So I'm starting over.
This first image I made in Kalispell, Montana, yesterday, as we were about to depart. Mr. hart is the owner of a 1952 Citroen that I photographed. This is him with his parakeet.
We then drove to West Glacier and the entrance to Glacier National Park, only to learn that the Going-to-the-Sun Highway was not yet open. I made this photo along the shore of Macdonald Lake in the western side of the park.
We then drove along the highway that skirted the park on the south side and on to St. Mary, the eastern entrance to the park. Ward and I made some images in this part of Glacier, but it was a battle, mostly against the fierce winds - not a lot of fun, to say the least.
Here you can see Beargrass blooming in the fire ravaged forest.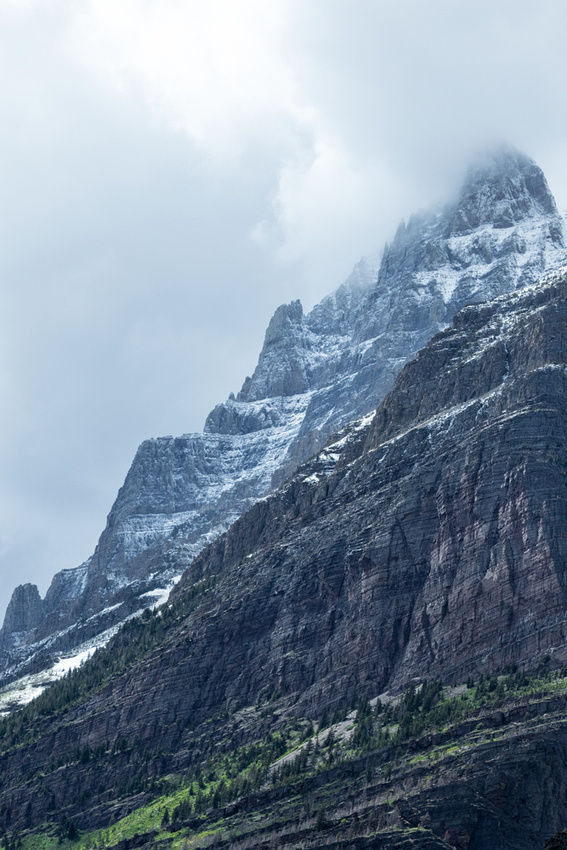 Last night these winds kept up. We could hear them howling all night long, so we passed up an early morning photo shoot. The light was bright, and the sky was a bald blue, so we decided to move on.
We paid our entry fee and entered Waterton Lakes National Park. Only after arriving in the village did we become aware that the two main roads, to Cameron Lake and into the Blakiston Valley, were closed due to the ravaging fires of last September. Is it not incumbent upon the park to inform visitors of these restrictions before they pay and enter? I think it rather arrogant of the authorities to not post this information or to inform travellers before they enter. We were restricted to the area of the village and nothing else.
The mountain sides around Waterton village were completely ravaged, as this photo illustrates.
I made this photo of Cameron Falls in the town site. There was nothing else to photograph.
This final image was made along the route to Lethbridge.
Tonight we are in Medicine Hat (The Hat), on our way home.